Design and marketing of bags and products in natural jute fabric. The collections are designed by Annalisa Guariso, designer and founder in 1980 of the company SISO. Since the launch in 1996, this special line of jute bags has known immediate and continuing success. The products are manufactured in India, the world's largest jute plant grower, under the supervision of SISO.
A vast range of textile bags with internal organizers to hold the bottles in place. Designed since 1996 from Annalisa Guariso, they have become a timeless classic in the food and wine field.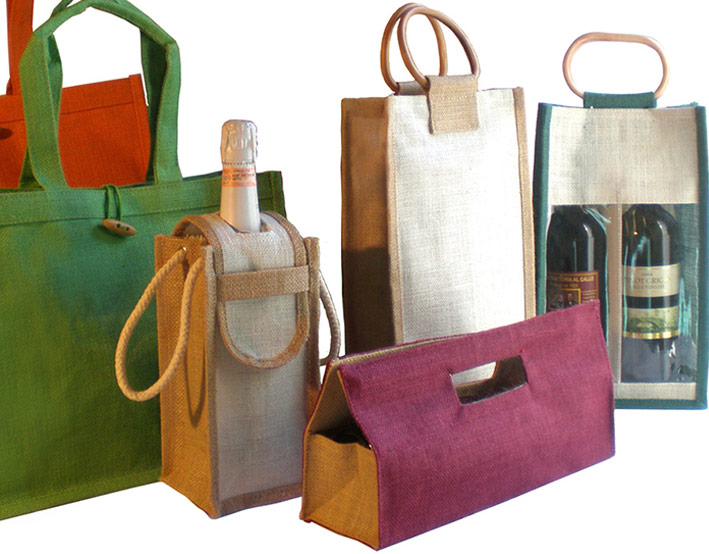 An extensive range of bags designed to create mixed gourmet gift packs with in an elegant and functional way. They are also ideal used as city shoppers, as well as at the beach or on vacation.
CATALOG REQUEST ECONOMIC OPERATORS
If you are an economic operator and you wish to discover all our products, request our catalogue.
Jute is a natural textile fiber that grows in moist soils and rigorously warm climates. It is cultivated in alluvial soils and does not require the use of fertilizers or pesticides.
Approximately 80% of the world's jute production is concentrated in the Ganges delta, between India and Bangladesh.
Initially used for the production of ropes,. in 1822 a Scottish mill in Dundee began spinning the raw fiber into a yarn. Traditionally, jute has been used for making sacks for food products such as cocoa, coffee, nuts and other oilseeds.
Recently, however, the use of this "golden fiber" (so called because of its luster and versatility), has been extended to making bags of every color and type, as well as apparels and textile products for the home.
Annalisa Guariso, designer and owner of SISO, perceived the vast potential of this material and, as early as 1996, began to collaborate with some Indian companies, designing a range of bottle holders, multipurpose bags and household and leisure accessories whose production she commissioned to Calcutta factories.
The Indian factories selected by SISO for manufacturing its jute items assure excellent production quality. They also assure that they are Child-labor- free, and that the main workers' rights are respected without any social discrimination.
On their frequent visits to India, Annalisa, Claudio and Silvia have not only gained a deep appreciation and respect for the local culture, but also built up close commercial and personal bonds with their local partner companies.